Brendan kavanagh
Brendan Kavanagh – teacher, performer and entrepreneur – pictured on the right with his beloved boogie woogie Golden Retriever, Rex!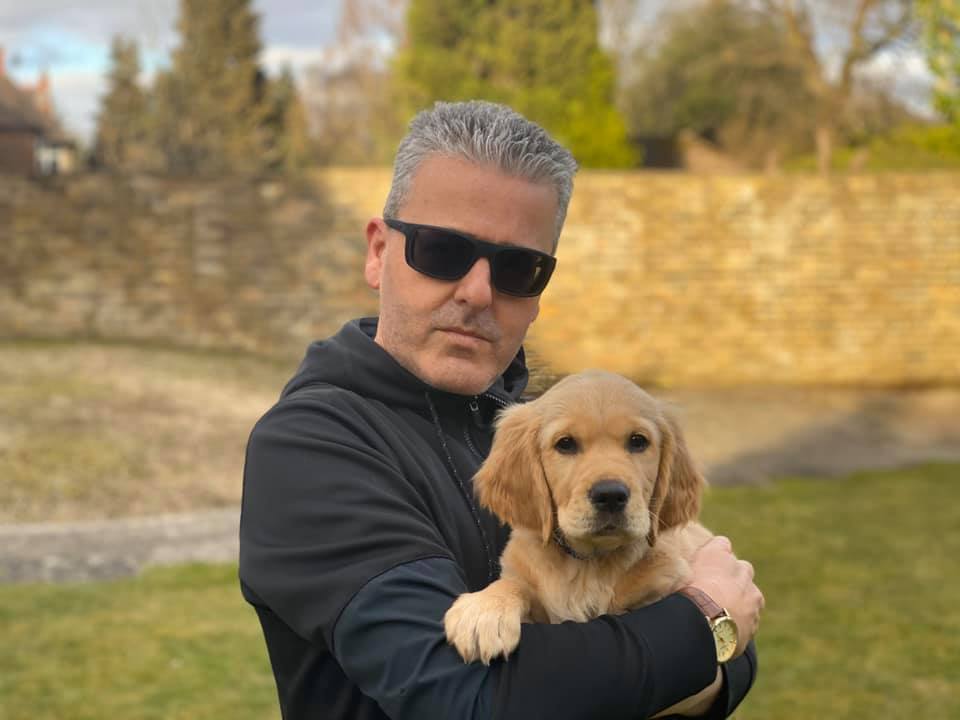 Brendan Kavanagh (aka DR K) was born of Irish Parents in North London in 1967. His late father was a plasterer from County Cork, but Brendan did not seem cut out for life as a builder. From an early age he gravitated towards toy pianos and his first baby attempts at writing consisted of quavers, semiquavers and treble clefs. He also showed an early propensity towards academic studies and frequently preferred to be alone with a book rather than playing football down the local park.
When he was about seven, his father turned up at the family residence with an old upright piano which he had found abandoned on a building site. Young Brendan entertained the neighbourhood with a stirring version of 'Silent Night' whilst his father tried to find some muscle to help lift the heavy 100 year old piano up four flights of stairs to the family's small two bedroom flat.
Now with a real piano, Brendan started taking formal piano lessons with local piano teachers and learnt how to read music. His classical music studies progressed and in his early twenties Brendan studied with the famous international concert pianist and Holocaust Survivor Nelly Ben-or. Ben-or was Professor of Piano at the Guildhall School of Music and Drama at the time and Dr K credits her with his love of classical music – also 'she didn't mind me playing a bit of boogie woogie on her Steinway.'
Dr K did not hear of boogie woogie until he was about seventeen when he heard Jools Holland playing the genre on Channel 4's 'The Tube.' After playing with various bands around London, Brendan was introduced to legendary Boogie Woogie player Hammy Howell (1954-1999). Howell had played with the chart band 'Darts' but he had suffered a nervous breakdown after the death of his mother and was working as a cleaner to make ends meet. He gave the teenage Kavanagh four boogie woogie lessons at various locations and taught him 'Hammy's Boogie' which Dr K later transcribed in the Badass Boogie Bundles.
Brendan's love of literature made him decide to pursue academic studies in English at three different institutions. He took his BA in English at Middlesex University, his M.A in Anglo Irish Studies at University College Dublin and his PhD at University College Cork. His PhD thesis was entitled ' W.B Yeats and Eastern Mysticism.'
Brendan took a teacher training qualification and worked as a teacher of English and Latin at various secondary schools in Ireland and England for a few years, but he eventually left the profession quoting his disillusionment with increasing bureaucracy and pointless testing. He wrote a book to express his dissatisfaction about the state of modern education entitled 'Toxic Teaching' which can still be found on amazon.
He is now well-known for his legendary impromptu piano performances on YouTube and as of writing his videos have achieved more than a billion views worldwide on various social media outlets.